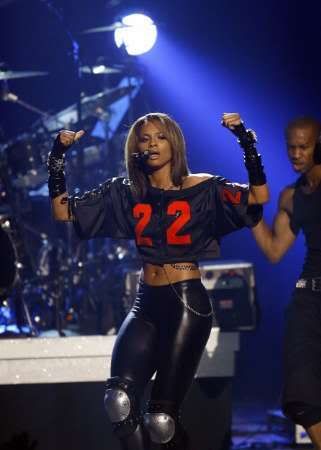 I Know I know, Im late, but you know what, I don't care! Im very busy these days and I just currently don't have the time to really devote to this blog like I thought I did. So all I ask is that you bare with me for a while.
Now onto the topic of thise post, The BET Awards!
What a fuckin' HAMtastic Event... that's probably what they should've called it instead of "The Main Event"... what a joke. Here's my summary of why the BET awards were horrible:

I was so amped to finally see what "The Main Event" was all about all month long, but to no surprise this Main Event wasn't even near what I was expecting. The Main Event was more like the headliner... just warming up, but for the entire show; straight up lousy. I was left wanting more but not the 'good' more, but the 'Um, so that's it?' more! Least to say I was one unhappy camper after it was over!

Firstly, for a few weeks, we've been bombarded with ads and commercials claiming that the main event was going to be the most spectacular BET Awards ceremony that we've seen yet. Why you ask? Because this year they were doing something that was unprecedented, bringing back the host from three years ago to perform and host AGAIN! Comedian Mo'nique tore the house down at the 2004 BET Awards by opening the show with her rendition of Beyonce's "Crazy In Love" dance sequence. Ever since then, it has been claimed that that year was THE BEST EVER... it was undoubtedly The Main Event of the Year! So I suppose the producers and directors wondered how would they outdo themselves this year? I mean last year we were unfortunate enough to be forced to sit through 2 hours of comedian Damon Wayans act a bafoon and do lame skits that were hardly funny, by fan reaction and response, Im thinking that he'd never be allowed on a BET awards stage again! The year before We had the honor of having two of hollywoods loving blockbuster couples on the planet: Will & Jada Smith! But again this was no comparison to the 2004 awards when Mo'nique out did herself on stage... So again, How would they outdo themselves again?
Bring Mo'nique back! But as my slogan in life is "If it aint broke, don't fix it!" and BET should've known better for that.

First off Mo'nique (we all should be pretty familiar with her with her appearance as the host of VH1's "Flavor of Love Girls: Charm School" as well as her own show on Oxygen "Mo'nique's F.A.T. Chance") looked HORRIBLE! Her stylist for the night should have been SHOT-- no, Im sorry. They should be STONED! Mo'nique, a beautiful plus-size woman with very soft features should have NEVER been put on stage with a long auburn latin wave lace-front wig on with dark DRAG QUEEN MAKEUP on! Then to make matters worse they brought her back on stage, this time wearing a different dress- that- for someone her size, didn't make her look flattering at all, BUT with another horrible lace front wig that was darker, a bit shorter with yet again horrible dark makeup that made her look like a man in drag! I was mortified at seeing how someone so beautiful had transformed into an ugly man. Shame on Mo's stylist for that!

Now for Mo'nique's performance, I was really dissapointed. I mean when she did the "Crazy In Love" sequence in 2004, I was impressed and excited and talked about it for a while. I was happy that finally someone of a different stature outdid Beyonce at her own game! Nothing against Bee' but I just thought that that was fantastic! But this year Mo'nique re-did Bee's "Deja Vu" dance sequence and it was very, um, Snap fo' da kids-ish! I mean I can't say anything negative about Mo'nique because its not her... its whoevere choreographed the sequence, it was bad. But then again, Beyonce's sequence didn't have much choreography to it either! So I guess I wasn't that bad.

Now, the performances. I was really bored watching damn near the entire show. The only performance that had me up on my feet, was Beyonces. No Im not a 'stan' of Beyonce, but I think that when it comes to her performing at the BET awards she receives special treatment. I mean lets back track: Beyonce has opened and/or performed at the BET awards since its debut in 2000! And ever since then her performance whether it was with Destiny's Child or Solo has been highly praised and received the most views. So I guess to keep their 'investment' in tact, every year that Beyonce is doing something that involves music, she's to perform at the awards! And every year it gets BIGGER & BETTER! (no pun to last years contridictory theme) However, although her performance was great, it still had a simple setback: Kelly Rowlands performance. I Love Kelly, I really do! I love her sound and her style... but if you're gonna let Beyonce lip sync in her performance, then Kelly should be able to as well! Here's why, Beyonce's performance was clear, bright, funky and fulll of energy because you could hear and understand every word she was saying, no luck to the fact that she was indeed lip syncing; she never heard her become short winded while she was heavily dancing. But during Kelly's performance, she didn't nearly dance as hard and her voice was cracking and sounding extremely short winded; almost a note shy of being hoarce. At the end of the dual performance, each girl of Destiny's Child pop's up from the stage along with Beyonce's sister Solange, who just re-released her 2004 album "SoloStar" last month (and no one cared), all did the closing dance to the ending of Kelly's Hit "Like This". I'd say the best part of seeing Kelly's performance was Eve's appearance. And I don't even really like Eve...

Ciara:

Where do I start? Where do I start?
First off, were my eyes fooling me when she was sitting next to... 50 Cent??? Who btw, is featured on her new single "Can't Leave 'Em Alone" and who she's been rumored to have been dating for the past couple of months? Way to end those rumors Cici!!

Ok, so I think that her performance was ok... considering she only performed "Like a Boy" and at the end she did a snippet of "That's Right" with featured Lil Jon for a brief appearance.

But the part of the performance that took the cake for me was at the end when she went into the audience and started shaking her money maker in the faces of the stars who sat amongst the aisle and stage... and who just so happened to be one of the people with the aisle seat that Ciara seemingly 'looked over' while shaking her bom bom, BOW WOW!!! And if I didn't know any better, I'd say homeboy was SWEATING!! His mom sat next to him shimmying her shoulders as Bow's home boy Chris Brown stood in the row in front of them getting excited and looking back at Bow like "Oh shit! Damn ni**a do you see this??" Good thing Bow thought he was stunnting with his shades on in a dark auditorium (asshole) because then he wouldn't have been able to hide the fact that... he could not deny Cici's ass performance too!

Great end to a performance...

Those are just my highlights of the awards, you know the parts that had me up in arms, otherwise The Main Event was simply The Main Cause- for everyone watching to fall asleep or slip into a deep depressed coma from boredom!! Other than the Gerald Levert tribute, I think the rest of the performances were safe. There weren't too many highlights that meant anything.